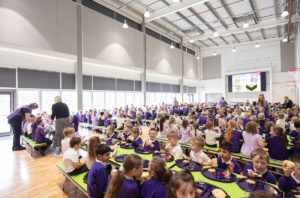 At Silsden Primary School, like most schools in Bradford, we use Bradford Council Facilities Management to provide our school meal service.
Cooked meals, including a halal and vegetarian option, are prepared daily in our kitchen and children are offered a choice of main courses and desserts.  Salads and fruit are always available. BMDC Facilities Management provides food which meets national Food Standards criteria.
We run a system of daily meals selection.  Children are encouraged to discuss the menus at home with their parents and to think about nutrition and healthy eating.  When they arrive at school they are able to select which of the available menu options they would like to eat on that day.
Seasonal menus run on a three-week rotation and are distributed to parents as they become available.  Occasional changes e.g. themed days are notified separately via our e-mail system.  Click the links below for the latest menus and information:
Autumn Term 2. 23.24. School Meal Menu
Free School Meals offer – meals are provided free of charge to children in Reception, Year 1 and Year 2.  For the 2023/24 academic year, the cost of meals for children in Years 3, 4, 5 and 6 is £2:20 per day (£11 per week).
Dinner money is payable in advance.  There are three ways to pay:
Online via our ParentPay service – you must have a verified ParentPay account to be able to use this service.  Please contact the school office if you need more information.
By cheque, made payable to BMDC and marked on the back with the child's name and class.
In cash: if paying by this method the correct amount should be enclosed in an envelope with the child's name and class marked on it.
Free School Meals
It is very important that all parents on qualifying benefits claim for free school meals for their child/children, via Bradford Council, even if their child is in Reception, Year 1 or Year 2 and is receiving a free meal in school. The school receives significant extra funding for each qualifying child, known as 'Pupil Premium', which enables us to enhance learning provision. If you think you may be eligible please enquire at the school office or click here for further information.