Introduction to Year 6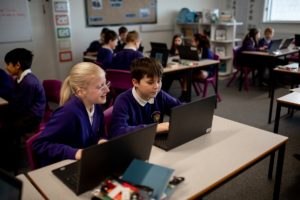 In their final year at Silsden Primary School, we encourage our Year 6 pupils to be pro-active, responsible and organised so that they can end their primary school journey with an appetite for learning; setting them up for secondary school and their lives beyond. With a curiosity to extend their learning, children will hone their skills both academically and personally.
Throughout the year, there is a strong focus on independence and building resilience – both within the curriculum and beyond. This begins with an (always popular) early full-week residential trip at Buckden House in the Yorkshire Dales. This important experience is fundamental for building relationships and making the most of opportunities.
We enrich our curriculum through engaging activities and the children have the opportunity to achieve across the curriculum: our learning is underpinned by topics related to the Second World War, Charles Darwin and Art History to name but a few.
Our 3 class names represent pioneering historical figures (Sir Francis Drake, Admiral Lord Nelson and Walter Tull) who achieved greatness and renown through their endeavour and hard-work – perfect examples for our Year 6!